Los premios Grammys 2021 celebró su 63ª entrega con varios cambios y sorpresas que hicieron de la premiación una de las noches más especiales de la música mundial, y no es para menos.
Conoce aquí en El Popular el minuto a minuto de todos los detalles de la gran gala, las presentaciones de BTS y curiosidades.
Lady Gaga y Ariana Grande desplazaron a BTS en la categoría Mejor agrupación pop dúo/banda. En tanto, Fito Páez, Grupo Niche, Natalia Lafourcade fueron los latinos que recibieron el premio a su nominación.
En la ceremonia de los premios Grammy, Bad Bunny, Dua Lipa, Bruno Mars fueron algunos de los cantantes que hicieron la fiesta en los Premios de la Música. Sin embargo, Taylor Swift se robó el show con su voz.
Los artistas del Grammy también interpretaron icónicos temas de cantantes fallecidos durante la pandemia, entre ellos Bruno Mars. En caso de Bruno Mars, hizo un homenaje a Little Richard, con Good Golly Miss Molly, la versión inglesa de "La plaga".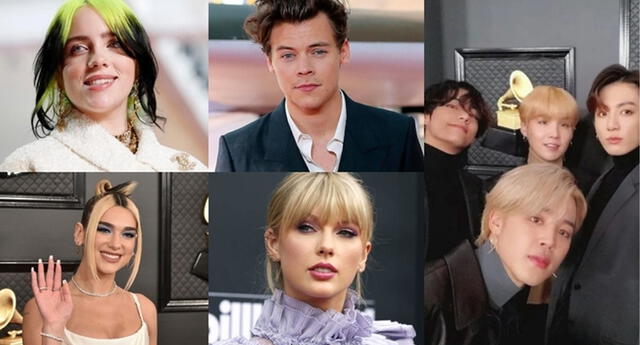 En la categoría a Mejor álbum pop o urbano latino el rapero Bad Bunny se impuso sobre sobre Camilo, Ricky Martin, Debi Nova, Kany García, llevándose su primer Grammy.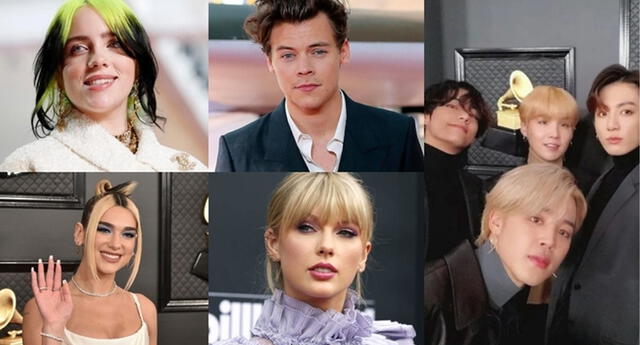 Lista completa de ganadores al Grammy 2021
RECORD OF THE YEAR
Everything I Wanted - Billie Eilish
BEST ALBUM OF THE YEAR
Taylor Swift "Folklore"
BEST SONG OF THE YEAR
I Can't Breathe, of H.E.R. and Tiara Thomas
BEST ALBUM POP
Future Nostalgia - Dua Lipa
BEST LATIN OR URBAN POP ALBUM
YHLQMDLG - Bad Bunny
BEST POP SOLO PERFORMANCE
Harry Style "Watermelon Sugar"
BEST COUNTRY SONG:
Miranda Lambert "Bluebird"
BEST NEW ARTIST:
Megan Thee Stallion
PRODUCER OF THE YEAR, NON-CLASSICAL:
Andrew Watt
COUNTRY SONG:
"Crowded Table" — Brandi Carlile, Natalie Hemby & Lori McKenna, songwriters (The Highwomen)
COUNTRY DUO/GROUP PERFORMANCE:
10,000 Hours — Dan + Shay & Justin Bieber
COUNTRY SOLO PERFORMANCE:
"When My Amy Prays" — Vince Gill
ROCK ALBUM:
The New Abnormal — The Strokes
ROCK SONG:
"Stay High" — Brittany Howard, Songwriter (Brittany Howard)
METAL PERFORMANCE:
"Bum-Rush" — Body Count
ROCK PERFORMANCE:
"Shameika" — Fiona Apple
RAP ALBUM:
King's Disease — Nas
RAP/SUNG PERFORMANCE:
"Savage" — Megan Thee Stallion Featuring Beyoncé
TRADITIONAL POP VOCAL ALBUM:
American Standard — James Taylor
POP DUO/GROUP PERFORMANCE:
"Rain on Me" — Lady Gaga with Ariana Grande
R&B ALBUM:
Bigger Love — John Legend
PROGRESSIVE R&B ALBUM:
It Is What It Is — Thundercat
R&B SONG:
"Better Than I Imagine" — Robert Glasper, Meshell Ndegeocello & Gabriella Wilson, Songwriters (Robert Glasper Featuring H.E.R. & Meshell Ndegeocello)
TRADITIONAL R&B PERFORMANCE:
"Anything For You" — Ledisi
LATIN JAZZ ALBUM:
Four Questions — Arturo O'farrill & The Afro Latin Jazz Orchestra
LARGE JAZZ ENSEMBLE ALBUM:
Data Lords — Maria Schneider Orchestra
JAZZ INSTRUMENTAL ALBUM:
Trilogy 2 — Chick Corea, Christian McBride & Brian Blade
JAZZ VOCAL ALBUM:
Secrets Are The Best Stories — Kurt Elling Featuring Danilo Pérez
IMPROVISED JAZZ SOLO:
All Blues — Chick Corea, Soloist Track From: Trilogy 2 (Chick Corea, Christian Mcbride & Brian Blade)
ALTERNATIVE MUSIC ALBUM:
Fetch the Bolt Cutters — Fiona Apple
MUSICAL THEATER ALBUM:
Jagged Little Pill — Kathryn Gallagher, Celia Rose Gooding, Lauren Patten & Elizabeth Stanley, Principal Soloists; Neal Avron, Pete Ganbarg, Tom Kitt, Michael Parker, Craig Rosen & Vivek J. Tiwary, Producers (Glen Ballard & Alanis Morissette, Lyricists) (Original Broadway Cast)
COMEDY ALBUM:
Black Mitzvah — Tiffany Haddish
SPOKEN WORD ALBUM:
Blowout: Corrupted Democracy, Rogue State Russia, And The Richest, Most Destructive Industry On Earth — Rachel Maddow
CHILDREN'S MUSIC ALBUM:
All The Ladies — Joanie Leeds
GLOBAL MUSIC ALBUM:
Twice As Tall — Burna Boy
REGGAE ALBUM:
Got To Be Tough — Toots & The MaytalsUpside Down 2020 — Buju Banton
REGIONAL ROOTS MUSIC ALBUM:
Atmosphere New Orleans — Nightcrawlers
FOLK ALBUM:
All the Good Times — Gillian Welch & David Rawling
CONTEMPORARY BLUES ALBUM:
Have You Lost Your Mind Yet? — Fantastic Negrito
TRADITIONAL BLUES ALBUM:
Rawer Than Raw — Bobby Rush
BLUEGRASS ALBUM:
Home — Billy Strings
AMERICANA ALBUM:
World On The Ground — Sarah Jarosz
AMERICAN ROOTS SONG:
"I Remember Everything" — Pat Mclaughlin & John Prine, Songwriters (John Prine)
AMERICAN ROOTS PERFORMANCE:
"I Remember Everything" — John Prine
SONG WRITTEN FOR VISUAL MEDIA:
"No Time To Die" [From "No Time To Die"] — Billie Eilish O'Connell & Finneas Baird O'Connell, Songwriters (Billie Eilish)
SCORE SOUNDTRACK FOR A VISUAL MEDIA:
"Joker" — Hildur Guðnadóttir, Composer
COMPILATION SOUNDTRACK FOR A VISUAL MEDIA:
"Jojo Rabbit" (Various Artists)
CONTEMPORARY CLASSICAL COMPOSITION:
Rouse: Symphony No. 5 — Christopher Rouse, Composer (Giancarlo Guerrero & Nashville Symphony)
CLASSICAL COMPENDIUM:
Thomas, M.T.: From The Diary Of Anne Frank & Meditations On Rilke — Isabel Leonard; Michael Tilson Thomas, Conductor; Jack Vad, Producer
CLASSICAL SOLO ALBUM VOCAL:
Smyth: The Prison — Sarah Brailey & Dashon Burton; James Blachly, Conductor (Experiential Chorus; Experiential Orchestra)
CLASSICAL INSTRUMENTAL SOLO:
Theofanidis: Concerto For Viola And Chamber Orchestra — Richard O'neill; David Alan Miller, Conductor (Albany Symphony)
CHORAL PERFORMANCE:
Danielpour: The Passion Of Yeshua — Joann Falletta, Conductor; James K. Bass & Adam Luebke, Chorus Masters (James K. Bass, J'nai Bridges, Timothy Fallon, Kenneth Overton, Hila Plitmann & Matthew Worth; Buffalo Philharmonic Orchestra; Buffalo Philharmonic Chorus & Ucla Chamber Singers)
CHAMBER MUSIC/SMALL ENSEMBLE PERFORMANCE:
Contemporary Voices — Pacifica Quartet
OPERA RECORDING:
Gershwin: Porgy And Bess — David Robertson, Conductor; Angel Blue & Eric Owens; David Frost, Producer (The Metropolitan Opera Orchestra; The Metropolitan Opera Chorus)
CHAMBER MUSIC/SMALL ENSEMBLE PERFORMANCE:
Contemporary Voices — Pacifica Quartet
ORCHESTRAL PERFORMANCE:
Ives: Complete Symphonies — Gustavo Dudamel, Conductor (Los Angeles Philharmonic)
TROPICAL LATIN ALBUM:
40 — Grupo Niche
REGIONAL MEXICAN MUSIC ALBUM:
Un Canto Por México, Vol. 1 — Natalia Lafourcade
LATIN ROCK OR ALTERNATIVE ALBUM:
La Conquista Del Espacio — Fito Páez
ENGINEERED ALBUM, CLASSICAL:
Shostakovich: Symphony No. 13, 'Babi Yar'
PRODUCER OF THE YEAR, CLASSICAL:
David Frost
REMIXED RECORDING:
Roses (IMANBEK Remix) — Imanbek Zeikenov, Remixer (SAINt Jhn)
ENGINEERED ALBUM, NON-CLASSICAL:
Hyperspace — Drew Brown, Andrew Coleman, Shawn Everett, Serban Ghenea, David Greenbaum, Jaycen Joshua & Mike Larson, Engineers; Randy Merrill, Mastering Engineer (Beck)
HISTORICAL ALBUM:
It's Such A Good Feeling: The Best Of Mister Rogers — Lee Lodyga & Cheryl Pawelski, Compilation Producers; Michael Graves, Mastering Engineer (Mister Rogers)
ALBUM NOTES:
Dead Man's Pop — Bob Mehr, Album Notes Writer (The Replacements)
BOXED OR SPECIAL LIMITED EDITION PACKAGE:
Ode To Joy — Lawrence Azerrad & Jeff Tweedy, Art Directors (Wilco)
RECORDING PACKAGING:
Vols. 11 & 12 — Doug Cunningham & Jason Noto, Art Directors (Desert Sessions)
ROOTS GOSPEL ALBUM:
Celebrating Fisk! (The 150th Anniversary Album) — Fisk Jubilee Singers
CONTEMPORARY CHRISTIAN MUSIC ALBUM:
Jesus Is King — Kanye West
GOSPEL ALBUM:
Gospel According To Pj — Pj Morton
NEW AGE ALBUM:
More Guitar Stories — Jim "Kimo" West
DANCE/ELECTRONIC ALBUM:
Bubba — Kaytranada
MUSIC FILM:
"Linda Ronstadt: The Sound Of My Voice" — Linda Ronstadt
MUSIC VIDEO:
"Brown Skin Girl," Beyoncé — Beyoncé Knowles-Carter & Jenn Nkiru, Video Directors; Lauren Baker, Astrid Edwards, Nathan Scherrer & Erinn Williams, Video Producers
ARRANGEMENT, INSTRUMENTAL AND VOCALS:
He Won't Hold You — Jacob Collier, Arranger (Jacob Collier Featuring Rapsody)
DANCE RECORDING:
10% Kaytranada Featuring Kali Uchis — Kaytranada, producer; Neal H. Pogue, mixerOn My Mind: Diplo & Sidepiece — Diplo & Sidepiece, producers; Luca Pretolesi, mixer
CONTEMPORARY INSTRUMENTAL ALBUM:
Live At The Royal Albert Hall — Snarky Puppy
INSTRUMENTAL COMPOSITION:
Sputnik — Maria Schneider, Composer (Maria Schneider)
ARRANGEMENT, INSTRUMENTAL OR A CAPPELLA:
Donna Lee — John Beasley, Arranger (John Beasley)
¿En qué canal y a qué horas ver gratis los Grammys 2021?
Tras un aplazamiento debido a la pandemia por el coronavirus, la ceremonia organizada por la Academia Nacional de las Artes y Ciencias de la Grabación será transmitido este 14 de marzo de manera virtual desde el Staples Center de Los Ángeles, Estados Unidos.
El evento musical más grande del mundo podrá disfrutarse desde los canales TNT y TNT Series en la región de Latinoamérica, mientras que en Estados Unidos se podrá ver bajo la señal de CBS.
DirecTV: Canal 502 (SD) y Canal 1052 (HD)
Movistar TV: Canal 402 (SD), 595 (SD), 730 (HD) y 870 (HD)
Claro TV: Canal 22 (SD), 590 (HD), 53 (SD) y 1504 (HD)
Star Globalcom: Canal 21
Horario según ubicación geográfica
Estados Unidos: 8:00 p.m. (hora del este) y 5:00 p.m. (hora del pacífico).
Perú, Colombia y Ecuador: 7:00 p.m.
México: 6:00 p.m.
Chile, Argentina y Uruguay: 9:00 p.m.
Bolivia y Venezuela: 8:00 p.m.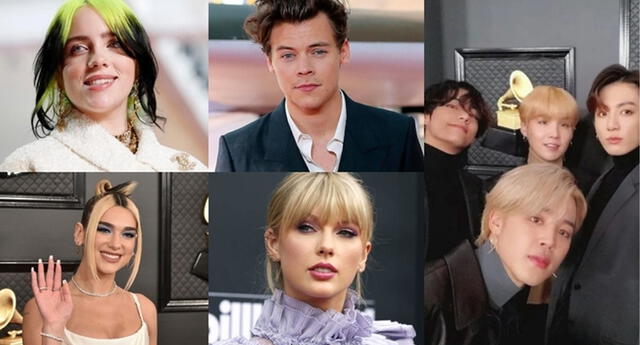 ¿Quiénes se presentarán en los Grammys 2021?
Dua Lipa
Chris Martin
John Mayer
Megan
Bad Bunny
Black Pumas
Cardi B
BTS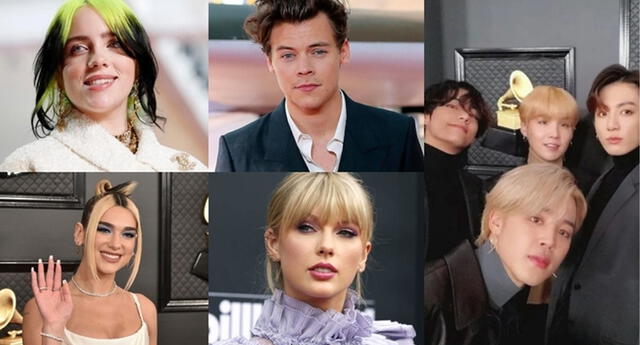 Brandi Carlile
DaBaby
Doja Cat
Billie Eilish
Mickey Guyton
HAIM theband
Brittany Howard
Miranda Lambert
LilBaby
Maren Morris
Post Malone
Roddy Ricch
Harry Styles
Taylor Swift
¿En qué canal ver a BTS en los Grammys 2021?
De igual forma que para ver el evento central, será transmitido por TNT y TNT Series para toda Latinoamérica, mientras que para EE.UU podrá ser vista por CBS. Cabe mencionar que las fans de BTS estarán haciendo stream con las transmisiones a través de las redes sociales y las páginas oficiales de "Army".
En tanto, aquí en El Popular también te relataremos el minuto a minuto de las presentaciones, entre ellas la esperada actuación de la banda de Kpop.
¿Cómo votar por tu artista favorito: BTS?
El jurado de la Academia de Grabación será el ente elegido para calificar a quiénes serán alzados como los más grandes representantes de la música del año, por lo que los fans no podrán definir a los ganadores en ninguna de las categorías, esto al mismo estilo de los Oscar para el cine.
Así que Army solo queda juntar los dedos y esperar para que BTS pueda alzar al ansiada estatuilla. Aunque en las últimas declaraciones del líder de la banda sur coreana, RM, aseguró que pese a no obtener o sí un Grammy lo más importante para ellos siempre serán sus fans, y que mientras estén con ellos serán felices.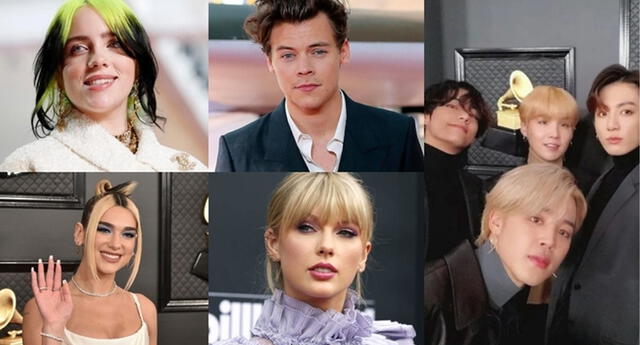 ¿Quién gano más Grammys en el 2020?
La cantante estadounidense Billie Eilish se consolidó como una de las máximas ganadoras de los Premios Grammy 2020, pues arrasó en las categorías: Mejor artista nuevo, Mejor álbum de año, Mejor grabación del año, Mejor Canción del año, Mejor álbum vocal de pop y Mejor ingeniería de grabación para un álbum. ¿Repetirá el plato?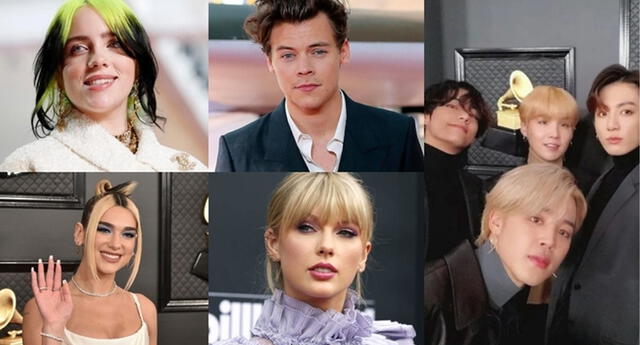 Nominados a los Grammys 2021
Álbum del año
Chilombo, de Jhené Aiko
Black Pumas Deluxe Edition, de Black Pumas
Everyday Life, de Coldplay
Djesse Vol. 3, de Jacob Collier
Women In Music Pt. III, de Haim
Future Nostalgia, de Dua Lipa
Hollywood's Bleeding, de Post Malone
Folklore, de Taylor Swift
Canción del año
Black Parade, de Beyoncé
The Box, de Roddy Ricch
Cardigan, de Taylor Swift
Circles, de Post Malone
Don't Start Now, de Dua Lipa
I Can't Breathe, de H.E.R.
If The World Was Ending, de JP Saxe con Julia Michaels
Grabación del año
Black Parade, de Beyoncé
Colors, de Black Pumas
Rockstar, de DaBaby con Roddy Ricch
Say So, de Doja Cat
Everything I Wanted, de Billie Eilish
Don't Start Now, de Dua Lipa
Circles, de Post Malone
Savage, de Megan Thee Stallion con Beyoncé
Mejor artista revelación
Ingrid Andress
Phoebe Bridgers
Chika
Noah Cyrus
D Smoke
Doja Cat
Kaytranada
Megan Thee Stallion
Mejor canción pop solista
Justin Bieber, por Yummy
Doja Cat, por Say So
Billie Eilish, por Everything I Wanted
Dua Lipa, por Don't Start Now
Harry Styles, por Watermelon Sugar
Taylor Swift, por Cardigan
Mejor canción pop dúo/banda
J. Balvin, Dua Lipa, Bad Bunny, Tainy, por Un día One Day
Justin Bieber con Quavo, por Intentions
BTS, por Dynamite
Lady Gaga con Ariana Grande, por Rain On Me
Taylor Swift con Bon Iver, por Exile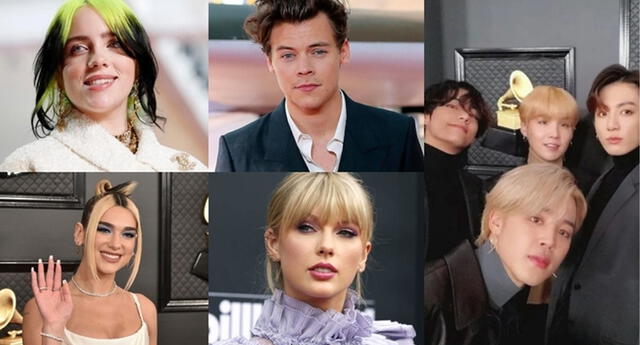 Mejor álbum dance/electrónica
Kick I, de Arca
Planet's Mad, de Baauer
Energy, de Disclosure
Bubba, de Kaytranada
Good Faith, de Madeon
Mejor álbum pop
Justin Bieber, por Changes
Lady Gaga, por Chromatica
Dua Lipa, por Future Nostalgia
Harry Styles, por Fine Line
Taylor Swift, por Folklore
Mejor álbum de rock
Fontaines D.C., por A Hero's Death
Michael Kiwanuka, por Kiwanuka
Grace Porter, por Daylight
Sturgill Simpson, por Sound & Fury
Tame Impala, por The New Abnormal
Mejor canción de rock
Phoebe Bridgers, por Kyoto
Tame Impala, por Lost In Yesterday
Big Thief, por Not
Fiona Apple, por Shameika
Brittany Howard, por Stay High
Mejor interpretación de rock
Fiona Apple, por Shameika
Big Thief, por Not
Phoebe Bridgers, por Kyoto
Haim, por The Steps
Stay High, por Brittany Howard
Grace Porter, por Daylight
Mejor álbum de R&B
Happy 2 Be Here, de Ant Clemons
Take Time, de Giveon
To Feel Love/d, de Luke James
Bigger Love, de John Legend
All Rise, de Gregory Porter
Mejor interpretación de R&B
Lightning & Thunder, de Jhene Aiko con John Legend
Black Parade, de Beyoncé
All I Need, de Jacob Collier con Mahalia y Ty Dolla $ign
Goat Head, de Brittany Howard
See Me, de Emily King
Mejor canción R&B
Better Than I Imagine, de Robert Glasper con H.E.R. y Meshell Ndegeocello
Black Parade, de Beyoncé
Collide, de Tiana Major9 y EARTHGANG
Do It, de Chloe X Halle
Slow Down, de Skip Marley y H.E.R.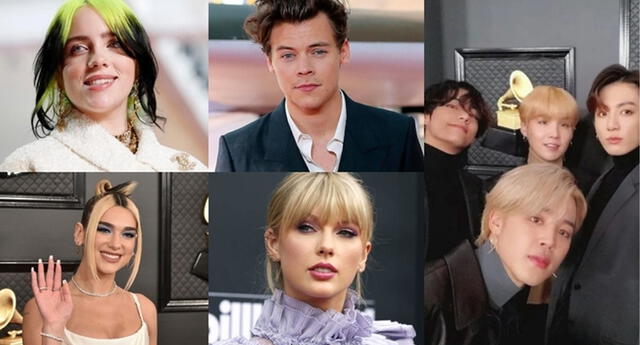 Mejor álbum R&B progresivo
Chilombo, de Jhené Aiko
Ungodly Hour, de Chloe X Halle
Free Nationals, de Free Nationals
F*** Yo Feelings, de Robert Glasper
It Is What It Is, de Thundercat
Mejor canción de rap
The Bigger Picture, de Lil Baby
The Box, de Roddy Ricch
Laugh Now, Cry Later, de Drake con Lil Durk
Rockstar, de DaBaby con Roddy Ricch
Savage, de Megan Thee Stallion con Beyoncé
Mejor álbum de rap
Black Habits, de D Smoke
Alfredo, de Freddie Gibbs y The Alchemist
A Written Testimony, de Jay Electronica
King's Disease, de Nas
The Allegory, de Royce Da 5′9
Mejor interpretación de rap
Deep Reverence, de Big Sean con Nipsey Hussle
Bop, de DaBaby
What's Poppin, de Jack Harlow
The Bigger Picture, de Lil Baby
Savage, de Megan Thee Stallion con Beyoncé
Dior, de Pop Smoke
Mejor álbum de jazz vocal
Ona, de Thana Alexa
Secrets Are The Best Stories, de Kurt Elling con Danilo Pérez
Modern Ancestors, de Carmen Lundy
Holy Room: Live At Alte Oper, de Somi With Frankfurt Radio Big Band
What's The Hurry, de Kenny Washington
Mejor álbum de country
Lady Like, de Ingrid Andress
Your Life Is A Record, de Brandy Clark
Wildcard, de Miranda Lambert
Nightfall, de Little Big Town
Never Will, de Ashley McBryde
Mejor canción de country
Bluebird, de Miranda Lambert
The Bones, de Maren Morris
Crowded Table, de The Highwomen
More Hearts Than Mine, de Ingrid Andress
Some People Do, de Old Dominion
Mejor álbum de tropical latino
José Alberto, de Mi Tumbao
Edwin Bonilla, de Infinito
Jorge Celedón, de Sigo cantando al amor
Grupo Niche, de 40
Victor Manuelle, de Memorias de Navidad
Mejor vídeo musical
Beyoncé, por Brown Skin Girl
Future con Drake, por Life is Good
Anderson Paak, por Lockdown
Harry Styles, por Adore You
Woodkid, por Goliath
Mejor álbum de pop latino o urbano
Bad Bunny, por YHLQMDLG
Camilo, por Por Primera Vez
Kany Garcia, por Mesa Para Dos
Ricky Martin, por Pausa
Debi Nova, por 3:33
Mejor álbum rock latino o alternativo
BajoFondo, por Aura
Cami, por Monstruo
Cultura Profética, por Sobrevolando
Fito Páez, por La Conquista del Espacio
Lido Pimienta, por Miss Colombia
Mejor álbum de música alternativa
Fiona Apple, por Fetch The Bolt Cutters
Beck, por Hyperspace
Phoebe Bridgers, por Punisher
Brittany Howard, por Jaime
Tame Impala, por The Slow Rush
Mejor productor del año
Jack Atonoff
Dan Auerbach
Dave Cobb
Flying Lotus
Andrew Watt
Mejor música para cine
Beastie Boys Story, de Beastie Boys
Black Is King, de Beyoncé
We Are Freestyle Love Supreme, de Freestyle Love Supreme
Linda Ronstadt: The Sound Of My Voice, de Linda Ronstadt
That Little Ol' Band From Texas, de ZZ Top
Mejor banda sonora
Ad Astra
Becoming
Joker
1917
Star Wars: El ascenso de Skywalker
Mejor ingeniería de álbum no clásico
Black Hole Rainbow
Expectations
Hyperspace
Jaime
25 Trips
Grammys 2021, últimas noticias